On January 18, 2006, I purchased a whopping 25 shares of Mittal Steel (MT) for $27.92. My target price was a zealous $40.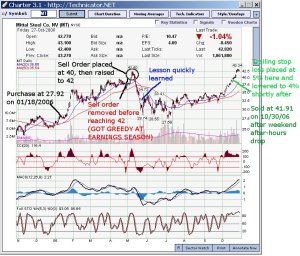 After going through various ups and downs with the company, I decided to put a 5% trailing stop loss when the stock neared the high 39s. I tightened it to 4% shortly thereafter.
After a drop over the weekend, the stock sold at $41.91 this morning.
My gain was 50.1%, or a gain of $349.75. However, I will be heavily taxed due to my buying it in January.
I bought this stock when getting back into investing after a very long lay-off. It was obviously a great purchase, and definitely entertaining to watch the dramatic news as Mittal bought Arcelor Steel in hostile fashion (my style).
I will continue to watch MT. If it cycles again, you can be assured that I'll buy it under $30. The steel industry is fun to follow, as it consolidates and the players become bigger and more efficient. Lakshmi Mittal is a total badass, and I have no problem investing in him, possibly for the long-term next time.
As you can see from the chart, I learned my lesson earlier on. Regardless of the amount of money, a 50% gain is nothing to laugh about. Hell, a 20% gain is nothing to laugh about. I could have re-bought at my original position with way more stock and sold it again. Thus, I learned to use the trailing stop loss to stop my greed.
My future strategies will be to invest in solid companies that are currently disliked by the mainstream — a contrarian view that I love, right out of Benjamin Graham's arsenal. I will continue to be greedy, but only on the buying side. If a stock isn't cheap enough for me to buy, then I won't do it. I will greedily lower my buying price. But for selling, I will be smart and take my gains if they're big while I can.
Charting software used is Charter, from my good man Frank over at www.technicator.net