Note: Talia has sent me pictures! I am including some of my favorites here. Click here for the entire slideshow.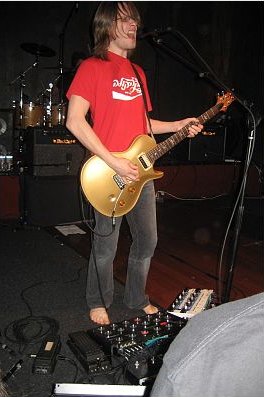 Last night, I had the honor of seeing one of Blackfield's seven US concerts on their tour to promote Blackfield II (reviewed at this earlier blog post). The sold-out show at the Knitting Factory, a small venue on the edge of the Hollywood Blvd. strip, was fetching tickets for up to 4 times face value. Led by Steven Wilson and Aviv Geffen, Blackfield lived up to the excitement on the street, perhaps more.
John Wesley played the opening act, a one-man band. Wesley's music consists of whiny love song tripe, so you can safely assume that I did not enjoy it. The guitar chops were sloppy, the vocals nothing special. However, the song Thanksgiving Day was touching. A local Hollywood B-actress/singer came on stage to provide some heinous backup vocals.
Although I was largely unimpressed with this opening act, it sure beat the hell out of the typical Hate Eternal shit opening band that I have to deal with at metal shows…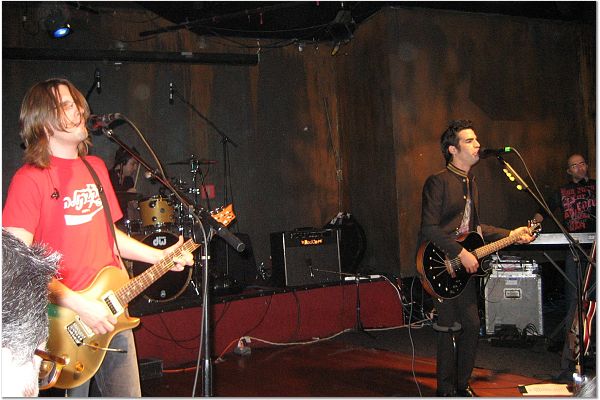 A half hour later, Blackfield drummer Tomer Z stormed the stage, and began an extended intro to Blackfield II's intro track, Once. Right away I knew the sound setup was going to be incredible – and it was. The rest of the band came on, and went right into Once. Here's the setlist:
Once
Miss U
Blackfield
Christenings
The Hole In Me
1,000 People
Pain
Aviv Geffen solo – Glow, which led into…
Geffen/Wilson duet – Thank You (Alanis Morisette cover from Wilson's Cover Version I)
Epidemic
Some Day
Open Mind
My Gift of Silence
Where is My Love
End of the World

Encore:

Hello …which led back into the Once drum intro…
Once
Cloudy Now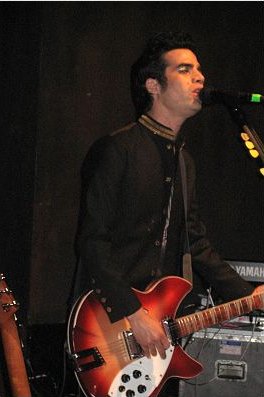 The surprises there were the playing of an incredible Alanis Morisette – Thank You cover and Once twice[1]. During the second version of Once, Blackfield wratcheted up the intensity. I've been to a lot of concerts, and I've never seen a band play the same song twice. In this case, I loved it. The setlist is also well-balanced between Blackfield and Blackfield II songs.
The best performances of the night were Blackfield, Pain, Epidemic, and the second playing of Once.
As I stated, the acoustics were absolutely perfect. On top of that, Wilson's live vocals are more hoarse than in the studio – and it sounded incredible. I wish he'd utilize this on albums rather than hide it. Equally impressive, Aviv's vocals are identical to that of his studio voice. I don't think I've ever heard anyone do that before. As a metal fan, I must say that Wilson's rare screams were extraoridinary, but Geffen should leave his one scream at home.
80 minutes of beautiful music and I had a blast. Now some more personal comments:
The Knitting Factory side stage: A touch too small for this show. Only three shows in the US means you should book something with more than 250 capacity. Perhaps the main stage at 500 capacity would have been better. Well-stocked bar (had an Arrogant Bastard on draught). The venue being on Hollywood Blvd. meant that I had to pay $10 to park and deal with Hollywood morons and wanna-bes. Not my typical concert venture.
Seffy Efrat – Lamest bassist ever. Dude, you are a bass guitarist, quit dancing and waddling around the stage. Take off that lame-ass tie, go stand in the corner, look mysteriously silent, and play your damned piece. Yes, you are good, but there are a thousand good bass guitarists. There is only ONE Steven Wilson. So quit upstaging him during his guitar solo. Douchebag.
Tomer Z – I've never seen a drummer have so much fun playing. His facial expressions were hilarious. Every big hit on the symbols came with a goldfish-like gulp of air. It's funny because I'm pretty sure he doesn't realize that he's doing it.
Aviv Geffen – I coulda done without the glitter on your eyelids…
Daniel Salomon Eran Mittelman – Flawless keyboards. Great job!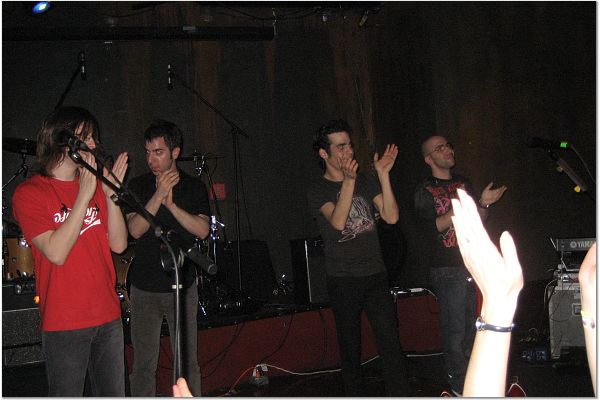 At this point, I want to conclude with two things, which most of you will probably disagree with:
Blackfield is better than Porcupine Tree
Blackfield II is better than Blackfield I, and the songs were much better live too.
An incredible night, one of the best shows I've been to! Good luck to all of you going to the Chicago and New York shows!
[1]I just picked up on the irony there, nice