Last fall, I filmed a reality TV pilot for Spike TV called Crash Test. On Tuesday, April 27th, Spike TV is going to air the pilot at 11PM EST (check your local listings – DirecTV and other satellite networks will be off of the east coast feed!).
In Crash Test, Hollywood stunt expert Jack Gill leads an elite team of stuntmen, scientists, and investigators as they recreate full scale accidents to prove who is guilty or innocent.
Here are two YouTube videos to check out: Spike TV Commercial – Look who's talking at the end!
Stunt Teaser videos
If Spike TV sees enough viewership and DVR recordings, it will may get greenlit for a full season.
So please pass this e-mail on, post the videos and DVR times to your Facebook and Twitter feeds, and spread the good word!
I am the biomedical engineering expert on the show, wearing red. It is my job to measure and determine whether or not these accidents would have created the injuries that the defendants claimed… had we not been using stunt pros.
I was brought into the show at the last minute after filming had begun. I had no clue what was going on (which often shows), but it turned out to be one of the best experiences of my life. The guys on the show all rule.
The show stars four of us, not including the stuntmen: Jack Gill – Stunt Expert / Leader Casey Noel – Stunt Rigger / Safety TJ Josefy – Investigator / Crime-Scene Recreator Mike Roberto – Biomedical Engineer
Our IMDB (yes I actually am on IMDB now):
And see the Facebook page for Crash Test
The show is also known as Crash Test: Real Wrecks, Real Stakes. Cheers!
Click here for the Lobby Card and a cool picture too!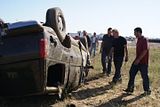 And another commercial: