Welcome to MikeRoberto.com!
Popular counterculture musings on sports, heavy music, entrepreneurship, and the American Dream.
On Saturday June 18, 2016, my brother married his beautiful wife Megan in our hometown of Cleveland, OH. This was just a day before Game 7 of the legendary Cavs vs. Warriors NBA Championship, which had the town abuzz (and then some).
I decided to look outside of the box, intertwining Nick and Megan's relationship with the saga that is our beloved Cleveland sports teams.
Due to ongoing circumstances, a few people have asked me …

Read the rest →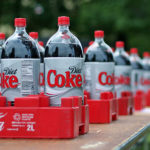 This week, a new research study is trending, with article titles such as Clinical trial reaffirms diet beverages play positive role in weight loss.[1] This study came out of the University of Colorado's Denver medical campus.[2]
The TL;DR they
want
you to read
These stories provide the following bits of information:
It was a 12-week trial,
303 participants were selected and placed into a water group or an NNS Group (non-nutritive sweetener — diet
…
Read the rest →